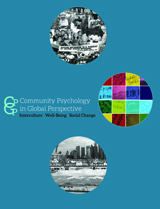 Aim and Scope

Community Psychology in Global Perspective publishes work that is of relevance to community psychologists as well as scholars and professionals from a diverse array of other backgrounds with shared interested in community-focused work.

Community Psychology in Global Perspective is a peer-reviewed journal devoted to research, theory and intervention, and review articles exploring human interactions in community settings across the globe. Its special focus is on making explicit the ways in which culture acts as a framework organizing and guiding our experiences, utilizing ecological perspectives to enhance our understanding and promotion of individual and community well-being, and advancing work aimed at the creation of positive social change and social justice.

The journal is international in scope, reflecting the main concerns of social scientists and community practitioners worldwide. Community Psychology in Global Perspective welcomes contributions from a variety of theoretical approaches across disciplines (psychology, sociology, political sciences, urban planning, social work and others), although it especially encourages submissions of field-based, culturally situated research and intervention.

The content of the journal includes:
Research articles that report empirical qualitative, quantitative and mixed-methods studies relevant to community psychology theory, method, and practice. The focus on qualitative research within a psychological frame will be a specific innovative contribution to the social science research.
Review articles that survey theoretical developments or topics of major interest.
Practice issues that present brief reports by practitioners or action researchers, which describe interesting developments and interventions or which address matters of professional and public relevance.

Contributions are invited on all aspects of Community Psychology, including, but not limited to: Community research methods · Participatory action research · Prevention & Wellbeing · Community program evaluation · Community development · Power & Empowerment · Active citizenship & Collective action · Minorities & Social inclusion · Gender · Migration & Intercultural relations · Social justice · Critical community psychology · Ecological clinical intervention

Community Psychology is an open access journal, free of charge to authors, and published online twice per year.

Readership

Community Psychologists · Clinical Psychologists · Social Scientists · Social Workers · Social Psychologists · Administrators · Community and Health Professionals · Urban and Community Planners · Ethnographers · Sociologists · Community Activists ·
Abstracting and Indexing Information
ProQuest Psychology (ProQuest)
PsycINFO/Psychological Abstracts (APA)
DOAJ (Directory of Open Access Journals)
Ulrich's
Announcements
Special Issue - Migrant resistance and acts of solidarity at individual, collective and community level

Editors

Francesca Esposito, ISPA-Instituto Universitário, APPsyCI-Applied Psychology Research Center Capabilities & Inclusion
Blerina Kellezi, Nottingham Trent University, UK

Important Dates

May 15, 2019: Deadline for paper submission.

Posted: 2019-02-10
More...
Vol 4, No 2 (2018): Community Psychology in Global Perspective - Special issue: Black Lives Matter in Community Psychology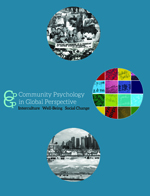 e-ISSN: 2421-2113
Editor in chief

Terri Mannarini (University of Salento, Italy)
Special Issue Editors
Dominique Thomas & Allana Zuckerman (Georgia State University, USA)
Assistant Editors
Sara L. Buckingham (University of Alaska Anchorage, United States), Salvatore Di Martino (Leeds Beckett University, UK), Amy Quayle (Victoria University, Australia), Alessia Rochira (University of Salento, Italy), Cosimo Talò (University of Salento, Italy)
Special Thematic Section
Research Articles
Questo sito utilizza un cookie tecnico per consentire la corretta navigazione. Se vuoi saperne di più consulta l'
informativa estesa
.
This work is licensed under a Creative Commons Attribuzione - Non commerciale - Non opere derivate 3.0 Italia License.
e-ISSN: 2421-2113